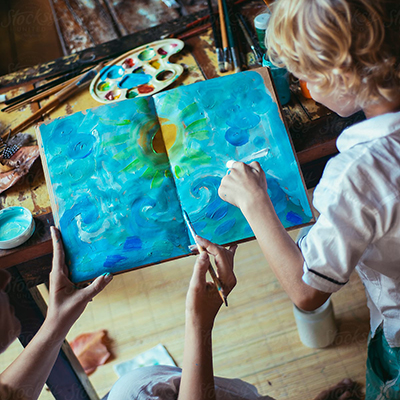 You may have heard varying opinions from family members and friends that have caused you to be hesitant about enrolling your child in an early learning program. However, opting out of an early learning program may rob your child of the opportunity to have a tailored educational experience that can shape essential developmental skills that will serve them throughout their academic years. Having a better understanding of early childhood education can help you wade through the myths and make the best decision for you and your child.
Below are some common myths about early learning.
Myth 1. Daycare is the same as an early childhood learning program
The term daycare tends to be used interchangeably with early childhood learning programs, creating the misconception that they are the same. Both are beneficial to a child's development and offer a secure and supervised space while parents work during the day. Still, daycare can be limited in the opportunities presented to a child. At daycare, your child may socialize with other kids and even have a semi-structured environment that may or may not include basic learning of the alphabet and counting.
Early childhood learning centres, such as Rothewood Academy, provide a play-based curriculum of activities administered by licensed early childhood educators that help children learn life skills that will be useful throughout their lives.
Myth 2. Early childhood education is easy
Early child care educators are required to complete extensive training in courses such as child psychology and development, child health and safety and behaviour management. They must also show their ability to design a curriculum that facilitates learning at all stages of a child's development. Early childhood practitioners are trained to problem solve, teach children conflict resolution, and maintain the health and safety of your child, all while building relationships with both parents and children.
Myth 3. Early childhood education doesn't allow kids to be kids
Enrolling kids in an early childhood program will not rob them of their childhood. In fact, early learning programs that are geared towards providing an environment for structured play enable a child to learn through the medium that suits them best – play. Children are naturally inquisitive, and their brains are developing rapidly up to the age of 5. Early childhood programs that encourage your child to interact with their environment, explore, and play in a structured, collaborative, and supervised way allow children to be kids and learn in a more individualized way.
Myth 4. Children are too young to retain anything
The first five years of a child's life are crucial to the emotional and social development of their brain. During these years, your child's brain will develop faster than at any other point in their life. They learn and absorb information more quickly, and this is greatly influenced by their external factors and experiences. This is the ideal stage to help a child develop skills such as a second language or social skills that will help sustain them throughout their lives. Immersing your child in an early childhood learning program gives them a leg up in the development of their motor, language, problem-solving, and cognitive skills. They have a safe and supervised environment that allows them to develop and practice skills that will give them a solid foundation.
Myth 5. Early childhood learning is not worth the expense
Statistics show that children who have benefitted from early learning programs are more likely to avoid toxic and criminal situations, own a home and earn more money in their jobs.
Countries that have an educated workforce have better economies. So this investment in your child's education is not only beneficial to them, it creates a better economy for their families as well.
The Rothewood method of play-based learning focuses on teaching your child as a whole – head, hands, and heart. Children are allowed to interact with their natural environment and learn through various experiences to help stimulate their brain's development wholly. Schedule a tour to experience the Rothewood method today.