Questions to Ask When Choosing a Daycare Centre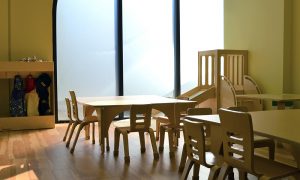 The first 5 to 7 years of children's development are crucial to their cognitive and psychological health. Their interactions during this period shape how they develop their learning and communication skills. These skills influence their social interactions, how they form relationships, and how they deal with challenges.
Your child's daycare centre should be an extension of the support you give your child at home. You want an environment that nurtures your child's physical, emotional, and mental well-being. When selecting your daycare, carefully think about your aspirations for your child. Do not be timid in asking questions, and do not be afraid to follow your instincts. Here is a guide to help in your search for the right daycare.
Is it safe, healthy and clean?
Your child's health and safety are of utmost importance. When choosing a daycare centre, you should feel confident that it meets the provincial standards. Ensure to ask questions about the health and safety policies, and arrange to tour the centre. Arranging your tour during normal operating hours allows you to make a detailed assessment of what a regular day will look like. Be sure to ask questions like:

Are you licensed?


When was your last inspection?


How long has the daycare been in operation?


How qualified are the caregivers?


Are your caregivers accredited in first aid and CPR training?


How many children are under your care?


What is the infant to caregiver ratio?


What is the toddler to caregiver ratio?
Ideally, there should be one staff to four babies under the age of 18 months. For toddlers 18 to 30 months, there should be one staff for every eight toddlers. Here are some more questions you should ask to help you decide when choosing a daycare centre:

What happens if a staff member is ill?


What are your policies on illnesses among children?


How do you treat situations where a child has a severe allergic reaction?


Are sick children required to be home for a specified period before returning to daycare?


Do you require proof of immunizations?


What safety measures are in place?


Are there fire extinguishers or an evacuation plan?


How often are play areas and toys cleaned or rotated?


How often do staff members sanitize?


Is it mandatory for staff to get tested regularly for COVID 19? Do they wear masks or face shields?
Rates and fees
Ensure to find out the full costs and payment schedule for each daycare centre. Some daycares have additional fees for early drop off and late pick-up. You should seek to have a comprehensive idea of all the fees required. Also, get clarification on the costs for public holidays and sick days. Ask the following questions:

Are there any additional fees to be considered?


Do you offer flexible enrollment? Do you have different rates for full-time versus part-time enrollment?


Do you accept payment online, by cheque, or bank transfer?


Do the rates depend on the age of the child? Are there discounts for siblings?


Do you accept government subsidies?


What are your policies on refunds if you opt to remove your child from daycare?
Nutrition
Daycare centres are required to serve balanced meals and snacks. However, some facilities may substitute frozen or overly sweet options. Be sure to confirm what your child will be eating, and make sure to look at the facilities where food is prepared and stored during your tour. You also want to ask these questions:

What is the feeding schedule?


Are children allowed to take food from home? If yes, what are the restricted items?


How is breast milk stored?


Do you allow mothers to drop in and breast-feed?


Do you cater to kids with special dietary needs?
Activities
Children thrive best in a structured environment that facilitates play and exploration. Your child should have a scheduled meal, nap, and playtime. A TV at a daycare facility can be a red flag, signalling that children may be left to watch long hours of television. It is good to find out:

What are the activities planned for each day?


Do you encourage indoor and outdoor activities?


How are outdoor activities monitored, and how long do kids play outdoors?


Do you allow the children to watch electronic devices?


Do you have scheduled nap times? Where do the children sleep?


Do you encourage family members to be a part of learning activities?
Disciplinary policy
Always ensure that the facility you choose handles disciplinary situations in ways that are acceptable. When touring the facility, use this opportunity to observe any disciplinary situations, and try to ask scenario-based questions to get a better understanding of how these situations are handled. These questions may help in your quest.

How do you treat situations when a child is upset or unruly?


How do you handle situations where kids are biting or hitting?
Parent communication
Feedback on your child's progress and activities at any point of the day is essential and gives some peace of mind. It is helpful to know:

What medium the daycare uses to update parents on activities throughout the day


How you may check on your child if necessary


Whether you will receive information on any milestone achievements during the day
Rothewood Daycare and Preschool Academy
At Rothewood Daycare and Preschool Academy, we are dedicated to embracing each child's individuality. Our holistic approach to learning and development helps your little ones discover their true potential. Call us today! We are ready to schedule your tour.